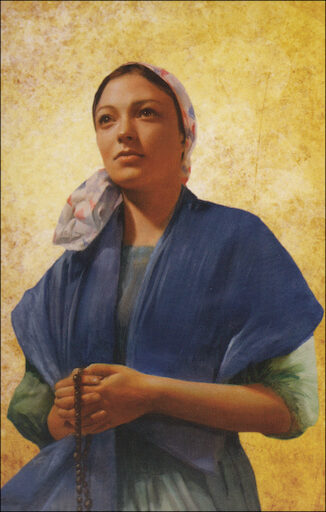 Alive in Christ, 1-8
St. Bernadette Soubirous
Grade 4 People of Faith Cards
Parish & School Edition
Publisher: Our Sunday Visitor
ISBN: 978-1-61278-081-8
Item Number: OSVP-CU5374
Non-returnable.
6 in stock. Out of print. No longer printed by the publisher.
Details
Package of 25 St. Bernadette Soubirous People of Faith cards which connect with a chapter in
Alive in Christ
Grade 4. Illustrated in an art style specifically chosen for fourth graders. Each card contains a prayer and brief biography on the back. A resource for any catechetical program.
Text on the back of the card:
Saint Bernadette Soubirous
1844 - 1879
Feast Day -- April 16
Saint Bernadette came from a poor French family. She helped her family by herding sheep. One day, she saw a vision of a beautiful woman. Over the next five months, she saw the woman seventeen more times. The woman led her to a spring of healing water. When Bernadette asked who she was, the lady said she was "The Immaculate Conception." People knew Bernadette was seeing Mary the Mother of Jesus. People still go to the spring at Lourdes, France and pray for healing.
Patron of the sick, shepherdesses, and against poverty.
Mary, grant that I may be a child according to your heart and the heart of your dear Son. (Saint Bernadette's prayer.)
Digital Online Resources to support Faith Formation
Weight: 0.141 lbs
Identifiers:
1612780814
9781612780818
CU5374