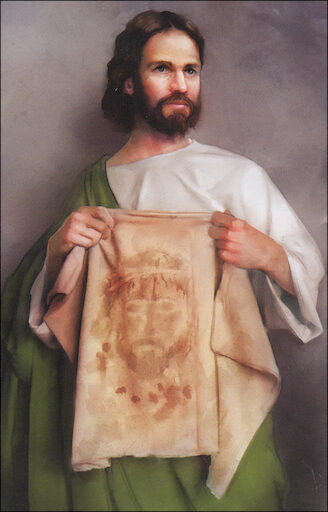 Alive in Christ, 1-8
St. Jude
Grade 6 People of Faith Cards
Parish & School Edition
Publisher: Our Sunday Visitor
ISBN: 978-1-61278-095-5
Item Number: OSVP-CU5388
7 in stock. Out of print. No longer printed by the publisher.
Details
Package of 25 St. Jude People of Faith cards which connect with a chapter in
Alive in Christ
Grade 6. Illustrated in an art style specifically chosen for sixth graders. Each card contains a prayer and brief biography on the back. A resource for any catechetical program.
Text on the back of the card:
Saint Jude
First Century
Feast Day--October 28
Most of the Epistles, or Letters, in the Bible were written by Saint Paul, but one was written by Saint Jude. He calls himself a "slave of Jesus Christ and a brother of James" (Jude 1:1). We know that his brother was a relative of Jesus, maybe a cousin, so Saint Jude was one of Jesus' cousins, too. In his letter, Saint Jude reminds us that the Church is a community of people. But most of all, he wants us to do whatever Jesus wants, just like a slave would do for a master.
Patron of impossible cases. It is believed that Saint Jude's bones are buried under St. Peter's Basilica at the Vatican.
Saint Jude, you help with those things we think are impossible. Help us now. Amen.
Weight: 0.142 lbs
Identifiers:
1612780954
9781612780955
CU5388