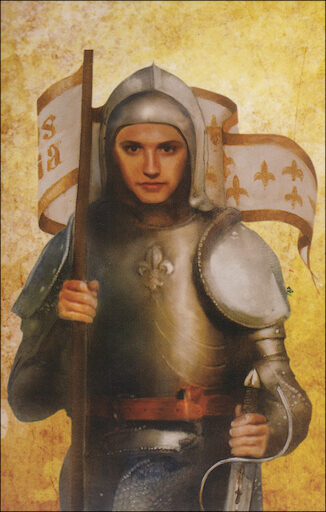 Alive in Christ, 1-8
St. Joan of Arc
Grade 4 People of Faith Cards
Parish & School Edition
Publisher: Our Sunday Visitor
ISBN: 978-1-61278-082-5
Item Number: OSVP-CU5375
8 in stock. Out of print. No longer printed by the publisher.
Details
Package of 25 St. Joan of Arc People of Faith cards which connect with a chapter in
Alive in Christ
Grade 4. Illustrated in an art style specifically chosen for fourth graders. Each card contains a prayer and brief biography on the back. A resource for any catechetical program.
Text on the back of the card:
Saint Joan of Arc
1412-1431
Feast Day -- May 10
Saint Joan lived in France during a time when it was at war. She was a teenager when she had visions and heard voices that told her to lead an army to fight for truth and save France from invaders. She bravely told the truth about her visions and voices and fought in many battles. However, Joan was accused of being against the Church and of being a witch. She was burned at the stake. Many books and movies have been written about her.
Patron of France, prisoners, and soldiers. William Shakespeare and Mark Twain both wrote about Saint Joan.
Saint Joan, may we always have the courage to listen to God and fight for what is right, no matter what the cost. Amen.
Weight: 0.138 lbs
Identifiers:
1612780822
9781612780825
CU5375