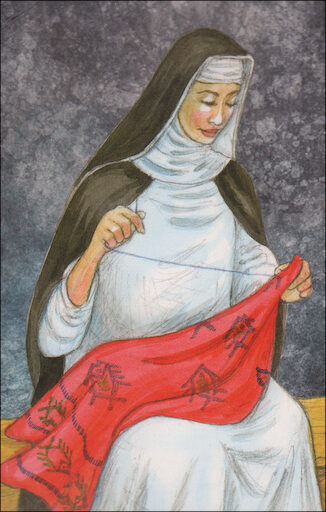 Alive in Christ, 1-8
St. Rose of Lima
Grade 1 People of Faith Cards
Parish & School Edition
Publisher: Our Sunday Visitor
ISBN: 978-1-61278-060-3
Item Number: OSVP-CU5353
Non-returnable.
6 in stock. Out of print. No longer printed by the publisher.
Details
Package of 25 St. Rose of Lima People of Faith cards which connect with a chapter in
Alive in Christ
Grade 1. Illustrated in an art style specifically chosen for first graders. Each card contains a prayer and brief biography on the back. A resource for any catechetical program.
Text on the back of the card:
Saint Rose of Lima
1586-1617
Feast Day -- August 23
Saint Rose of Lima was named Isabel at birth. Her family said she was as pretty as a flower, so they called her "Rose." The Holy Spirit gave Rose the gift of piety. She prayed and fasted every day. She loved God's wonderful world. She used her talent to grow beautiful flowers that she sold to help support her family and care for the poor, the sick and the hungry in her community.
Patron of Latin America and the Philippines, gardeners, and florists. Saint Rose was well known for her beautiful embroidery.
Lord, increase your love in my heart. (Saint Rose's prayer.)
Digital Online Resources to support Faith Formation
Weight: 0.142 lbs
Identifiers:
1612780601
9781612780603
CU5353