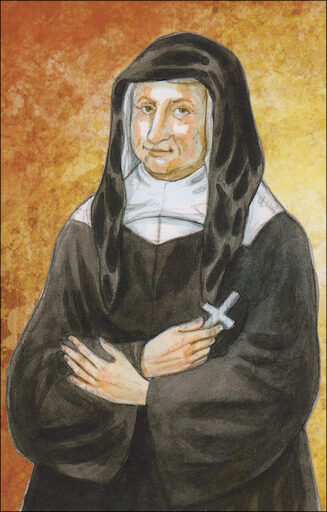 Alive in Christ, 1-8
St. Louise de Marillac
Grade 1 People of Faith Cards
Parish & School Edition
Publisher: Our Sunday Visitor
ISBN: 978-1-61278-059-7
Item Number: OSVP-CU5352
7 in stock. Out of print. No longer printed by the publisher.
Details
Package of 25 St. Louise de Marillac People of Faith cards which connect with a chapter in
Alive in Christ
Grade 1. Illustrated in an art style specifically chosen for first graders. Each card contains a prayer and brief biography on the back. A resource for any catechetical program.
Text on the back of the card:
Saint Louise de Marillac
1591 - 1660
Feast Day -- March 15
Saint Louise de Marillac lived in France. After her husband died, she was very sad. She met St. Vincent de Paul, who became a friend. They started the Daughters of Charity, a group of nuns that worked in hospitals, homes, prisons and during wars. Saint Louise wanted to share God's love by helping the poor and the sick. There are still over 25,000 Daughters of Charity who help the poor all over the world.
Patron of disappointing children, loss of parents, and social workers. Saint Louise went to school at the royal monastery of Poissy near Paris.
Dear God, help us to trust in your guidance for our loves, just as Saint Louise did. Amen.
Weight: 0.141 lbs
Identifiers:
1612780598
9781612780597
CU5352