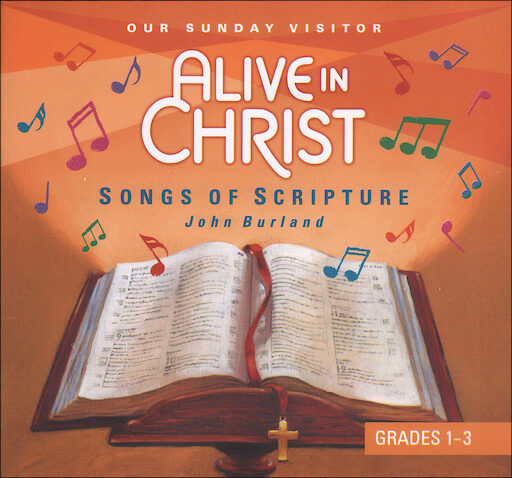 Alive in Christ, 1-8
Songs of Scripture
Grades 1-3 Music CD
Parish & School Edition
Publisher: Our Sunday Visitor
ISBN: 978-1-61278-432-8
Item Number: OSVP-CU5241
Non-returnable.
3 in stock. Out of print. No longer printed by the publisher.
Details
Deepening Children's Understanding of the Word of God.
Music by John Burland and Dr. Jo Ann Paradise helps deepen children's understanding of each lesson with songs that celebrate faith and support catechesis with meditative prayer, movement, and story. Each CD offers songs that teach, reinforce or unfold the meaning of Scripture stories presented in the student books. Includes the Alive in Christ program theme song, multiple songs suggestions for each chapter, and 18 songs relating to key Scripture stories. Other program music can be purchased and downloaded from aliveinchrist.osv.com. (©2013)
Titles on this CD:
Alive in Christ
LOVE God
God Created You and Me
The Holy Family
You've Got to Love Them
His Laws Make Us Free
Have You Ever Seen a Mustard Seed?
Jesus Heals
How Awesome Is Your Name
Holy Spirit
How Many Times Lord?
Zaccheaus
The Rich Young Man
The Great Feast
Mary, O Blessed One
I Am the Way
Mary Magdalene
Upon This Rock
Healing Grace
God Is So Big
Alive in Christ
Weight: 0.120 lbs
Identifiers:
1612784321
9781612784328
CU5241