Christ Our Life: New Evangelization, K-8
God Loves Us
Kindergarten Catechist Guide Kit
For Parishes
Publisher: Loyola Press
ISBN: 978-0-8294-4579-4
Item Number: LOYO-45794
View Sample
In stock.
Details
Parish Catechist Guide Kit includes:
Along with planning tools and resources, the Catechist Guide offers comprehensive instructional support with a proven three-step teaching method.
Preparing the Faith Experience offers background resources and supports the catechist's spirituality.
A Special Seasons and Days section presents lessons on liturgical seasons and saints' feast days.
Comprehensive literature and music lists provide additional resource recommendations.
Included in every Parish Catechist Guide Kit--audio download, 10 posters (17" x 22"), plush Jesus the Teacher, and reproducible blackline masters. Spiral-bound wraparound, 9.125 x 12.125, 548 pages.

Weight: 5.849 lbs
Identifiers:
082944579X
45794
9780829445794
Set Includes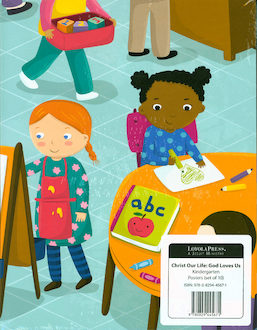 $9.99