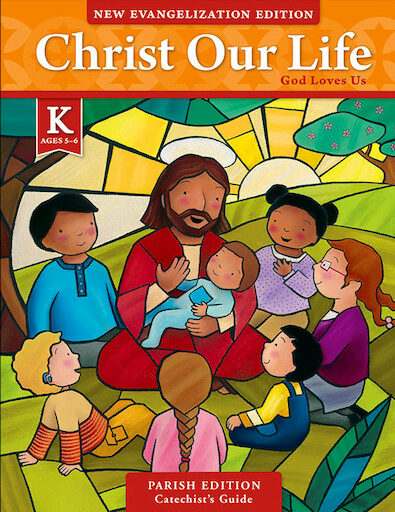 Christ Our Life: New Evangelization, K-8
God Loves Us
Kindergarten Catechist Guide Kit
Parish Edition
Publisher: Loyola Press
ISBN: 978-0-8294-4579-4
Item Number: LOYO-45794
View Sample
Details
Christ Our Life: God Loves Us is a kindergarten program that integrates Scripture and Church doctrine into each lesson to help children and teachers relate Catholic beliefs, sacred Tradition, and, most importantly, faith to their lives.
Parish Catechist Guide Kit includes:
Along with planning tools and resources, the Catechist Guide offers comprehensive instructional support with a proven three-step teaching method.
Preparing the Faith Experience offers background resources and supports the catechist's spirituality.
A Special Seasons and Days section presents lessons on liturgical seasons and saints' feast days.
Comprehensive literature and music lists provide additional resource recommendations.
Included in every Parish Catechist Guide Kit--10 posters (17" x 22"), plush Jesus the Teacher, and access to reproducible blackline masters and downloadable audio music files in the Loyola Press Digital Library. Spiral-bound wraparound, 9.125 x 12.125, 548 pages. (©2019)
Loyola Press Digital Library
Access to reproducible blackline masters, assessments, activities and downloadable audio music files in the Loyola Press Digital Library is included with the purchase of the catechist guide. We will send a report of your purchase to Loyola and they will follow up with instructions and login information for the digital library. Note: Digital access is valid only from August 1 through June 30.
Ebooks Available. Free chapter-by-chapter lesson plans, games and study guides for every grade.
Weight: 11.120 lbs
Case Qty: 8 ($510.00)
Identifiers:
082944579X
45794
9780829445794
Set Includes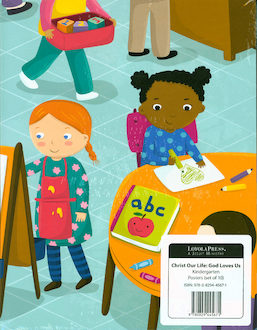 $16.50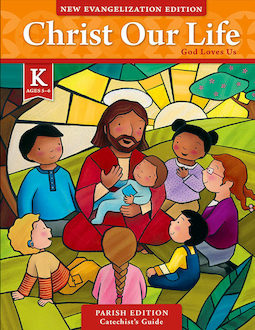 Christ Our Life 19 G:K Cg