Christ Our Life: New Evangelization, K-8
« All Online Digital Resources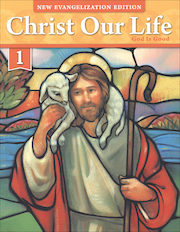 Free online family resources.
Christ Our Life offers parents and families materials specifically designed for use at home whether catechesis takes place in the parish, school, or home. From at-home, family friendly lesson plans, to interactive study guides. No password required.
Lesson plans for parents for each unit
Chapter quizzes for students
Study guides
Games and puzzles
209-page Home Learning Guide can be downloaded and printed
Free Family Quick Guide
Family Quick Guide gives a basic lesson plan outline to use when teaching religion to all the children in the family at once.
EBooks
Ebooks are sold separately. A one-year subscription to the ebook is the same price as a print book. Contact us for more information.
Shop Program
Christ Our Life: New Evangelization, K-8, Parish Edition
Christ Our Life: New Evangelization, K-8, School Edition