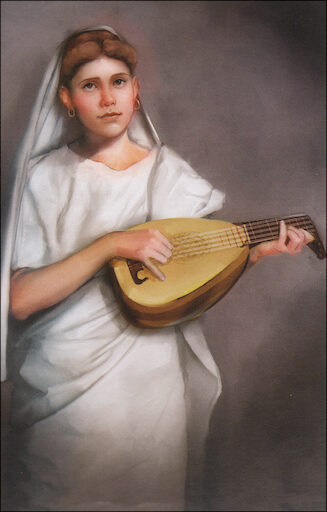 Alive in Christ, 1-8
St. Cecilia
Grades 1-6 People of Faith Cards
Parish & School Edition
Publisher: Our Sunday Visitor
ISBN: 978-1-61278-426-7
Item Number: OSVP-CU5394
3 in stock. Out of print. No longer printed by the publisher.
Details
Package of 25 St. Cecilia People of Faith cards. Each card contains a prayer and brief biography on the back. A resource for any catechetical program.

Text from the back of the card:
Saint Cecelia
Second Century
Feast Day -- November 22
Saint Cecelia lived in Rome. Because of her faith, she was killed by the Emperor. A story says that her husband, Valerian, was a martyr, too. The legend also says that Cecilia sang to God on her wedding day as well as when she was dying. Cecilia used her beautiful voice to pray to God in song. On her feast day, many people remember her by sinning songs and playing instruments.

Patron of musicians and church music. The Sisters of Saint Cecilia shear the lambs' wool used to make the palliums, or shoulder vestments, of new archbishops.

Saint Cecilia, you loved music and used your voice to honor God. May we use our musical talents to honor him as well. Amen.
Weight: 0.140 lbs
Identifiers:
1612784267
9781612784267
CU5394