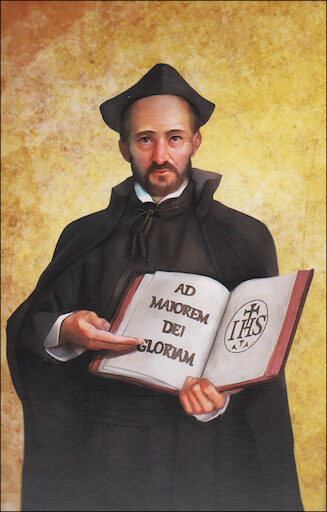 Alive in Christ, 1-8
St. Ignatius Loyola
Grade 6 People of Faith Cards
Parish & School Edition
Publisher: Our Sunday Visitor
ISBN: 978-1-61278-097-9
Item Number: OSVP-CU5390
Non-returnable.
6 in stock. Out of print. No longer printed by the publisher.
Details
Package of 25 St. Ignatius Loyola People of Faith cards which connect with a chapter in
Alive in Christ
Grade 6. Illustrated in an art style specifically chosen for sixth graders. Each card contains a prayer and brief biography on the back. A resource for any catechetical program.
Text on the back of the card:
Saint Ignatius Loyola
1491-1556
Feast Day -- July 31
Saint Ignatius Loyola was a soldier. While recovering from a wound, he read a book about Jesus and decided to become a priest. He founded an order called the Society of Jesus, also call the Jesuits. Ignatius wrote a book titled
Spiritual Exercises
, which people still read today. His motto was "Do everything for the honor and glory of God." The Jesuits are famous for their learning and teaching. They still spread the Good News of Jesus in parishes, high schools, and universities.
Patron of the Jesuits and soldiers. Saint Ignatius died on Rome of malaria.
Take, O Lord, and receive my entire liberty, my memory, my understanding and my whole will. (Saint Ignatius' prayer.)
Digital Online Resources to support Faith Formation
Weight: 0.138 lbs
Identifiers:
1612780970
9781612780979
CU5390