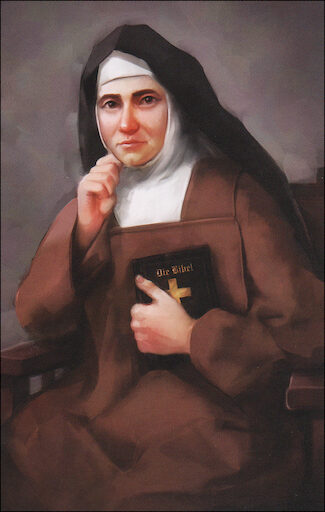 Alive in Christ, 1-8
St. Teresia Benedicta of the Cross
Grade 6 People of Faith Cards
Parish & School Edition
Publisher: Our Sunday Visitor
ISBN: 978-1-61278-093-1
Item Number: OSVP-CU5386
Non-returnable.
4 in stock. Out of print. No longer printed by the publisher.
Details
Package of 25 St. Teresia Benedicta of the Cross People of Faith cards which connect with a chapter in
Alive in Christ
Grade 6. Illustrated in an art style specifically chosen for sixth graders. Each card contains a prayer and brief biography on the back. A resource for any catechetical program.
Text on the back of the card:
Saint Teresia Benedicta
1891-1942
Feast Day -- August 6
Edith Stein was born in Germany to a Jewish family. Edith grew up celebrating the Jewish holidays, such as Passover. She became a Catholic in her thirties and entered a convent. She took the religious name Sister Teresia Benedicta of the Cross. During World War II, she moved to the Netherlands. In the Netherlands, the Nazis began persecuting Jews. Because she was of Jewish origin, Teresia was arrested and sent to the death camp at Auschwitz, where she was executed.
Patron of Europe and Jews who become Christians. Saint Teresia had a PhD in philosophy from the University of Gottingen and taught at the university.
Dear Saint Teresia, you loved to learn. Help us to do our best in school. Amen.
Weight: 0.142 lbs
Identifiers:
1612780938
9781612780931
CU5386