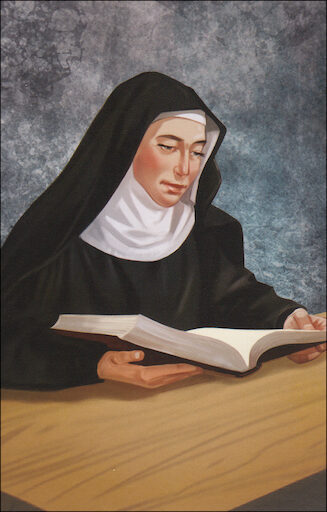 Alive in Christ, 1-8
St. Gertrude the Great
Grade 3 People of Faith Cards
Parish & School Edition
Publisher: Our Sunday Visitor
ISBN: 978-1-61278-072-6
Item Number: OSVP-CU5365
Non-returnable.
3 in stock. Out of print. No longer printed by the publisher.
Details
Package of 25 St. Gertrude the Great People of Faith cards which connect with a chapter in
Alive in Christ
Grade 3. Illustrated in an art style specifically chosen for third graders. Each card contains a prayer and brief biography on the back. A resource for any catechetical program.
Text on the back of the card:
Saint Gertrude the Great
1256-c.1302
Feast Day -- November 16
Saint Gertrude was a German nun. Her parents died when she was young, so she lived in a convent. Gertrude was very smart and loved to read. She was especially good at reading Latin. Gertrude also loved to pray for people who had died, asking God to take them to Heaven. She prayed for her family, friends, and everyone she met. Many Saints have used Saint Gertrude as an example of a very holy woman.
Patron of travelers and the West Indies. Saint Gertrude was well educated in philosophy and literature.
Eternal Father, I offer thee the most precious blood of they divine Son, Jesus Christ, for all the holy souls in Purgatory and for sinners everywhere. (Saint Gertrude's prayer.)
Digital Online Resources to support Faith Formation
Weight: 0.142 lbs
Identifiers:
1612780725
9781612780726
CU5365