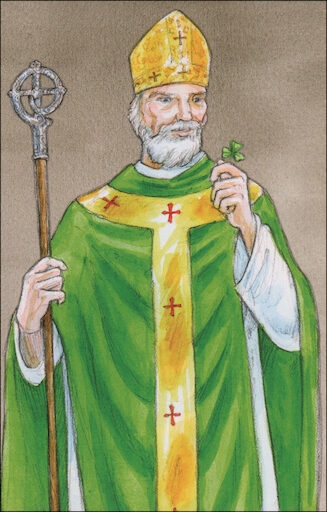 Alive in Christ, 1-8
St. Patrick
Grade 1 People of Faith Cards
Parish & School Edition
Publisher: Our Sunday Visitor
ISBN: 978-1-61278-058-0
Item Number: OSVP-CU5351
6 in stock. Out of print. No longer printed by the publisher.
Details
Package of 25 St. Patrick People of Faith cards which connect with a chapter in
Alive in Christ
Grade 1. Illustrated in an art style specifically chosen for first graders. Each card contains a prayer and brief biography on the back. A resource for any catechetical program.
Text on the back of the card:
Saint Patrick was born in England and was kidnapped by pirates when he was just a boy. They took him to Ireland to be a slave. After six years, Patrick escaped and went back to his family, but he still thought of the people he left in Ireland. He studied to become a priest, and years later, he returned to Ireland to teach the people. He used a shamrock to explain that the Holy Trinity was one God in three Divine Persons.
Patron of Ireland, Two of Saint Patrick's letters still survive: his Declaration and the Letter to the soldiers of Cototicus.
Saint Patrick, may we always believe in the Holy Trinity as you did. Amen.
Weight: 0.141 lbs
Identifiers:
161278058X
9781612780580
CU5351