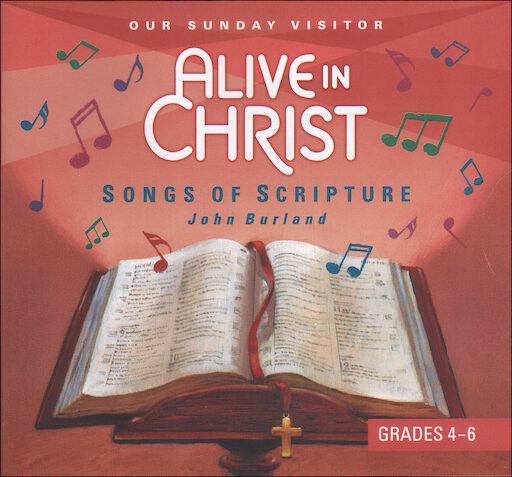 Alive in Christ, 1-8
Songs of Scripture
Grades 4-6 Music CD
Deepening Children's Understanding of the Word of God
Parish & School Edition
Publisher: Our Sunday Visitor
ISBN: 978-1-61278-433-5
Item Number: OSVP-CU5242
5 in stock. Out of print. No longer printed by the publisher.
Details
Deepening Children's Understanding of the Word of God.
Music by John Burland and Dr. Jo Ann Paradise helps deepen children's understanding of each lesson with songs that celebrate faith and support catechesis with meditative prayer, movement, and story. Each CD offers songs that teach, reinforce or unfold the meaning of Scripture stories from both the Old and New Testaments. Includes the Alive in Christ program theme song, multiple songs suggestions for each chapter, and 18 songs relating to key Scripture stories. Additional program music can be purchased and downloaded from aliveinchrist.osv.com (©2013)
Titles on this CD:
Alive in Christ
Come and Follow Me
Abraham
The Good Samaritan
The Beatitudes
Mary's Song of Praise
That You May Live
The Blind Man
The Great I Am
The Baptism of Jesus
He Lives!
The Prodigal Son
Take This and Eat
Least of My Brothers
Where Are You Adam?
Manna in the Desert
Walk With Your God
The Great Commandment
Serving Each Other
New Jerusalem
Alive in Christ
Weight: 0.125 lbs
Identifiers:
161278433X
9781612784335
CU5242