Encountering Jesus in the New Testament, Third Edition
Student Text
Publisher: Ave Maria Press
ISBN: 978-1-59471-949-3
Item Number: AVEP-719493
View Sample
Details
Offers a complete survey of the four Gospels, the letters of St. Paul, and the universal Catholic letters that helped to define the Church's beliefs about Jesus Christ. The textbook provides a sweeping view of Christ, both from the understanding of his early followers and the inspired authors of the New Testament and from those in the first centuries who did not believe in Jesus and were his enemies.
This new edition is in a 6-inch by 9-inch, college-sized format and includes a number of new and special features:
direct references to Scripture meant to send students directly to the Bible so they can read the passages and their commentaries;
three chapter assignments, each pitched to a different learning style;
a central focus question at the beginning of each chapter and repeated in the chapter summary;
note-taking graphic organizers for each chapter section to help students highlight, outline, and remember what they have read, with section assessment questions geared to the note-taking prompts;
chapter sections with clearly identified main ideas;
section assessment questions in a variety of styles;
section summaries with questions that can be used to review for the chapter test or as extra credit; and
redesigned chapters with new infographic features and photo essays.
Encountering Jesus in the New Testament is a companion to a course on the New Testament. This course is typically taught in one semester, following an introductory course on the Old Testament. The text can also be used as the main textbook for the required courses I, II, and III of the USCCB curriculum framework. Paperback, 6 x 9, 568 pages. (©2021)
Weight: 2.018 lbs
Case Qty: 16 ($479.20)
Identifiers:
1594719497
719493
9781594719493
Teaching Guide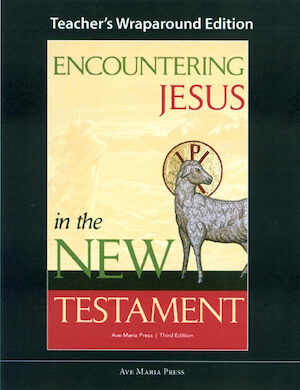 $44.95
AVEP-719516