Blest Are We Faith and Word 2008, 1-8
« All Online Digital Resources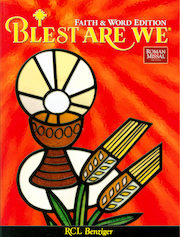 | | Free Student Ebook (with purchase of Print Book)* | Free Teacher Guide Ebooks (with purchase of Print Book)* | Free Access to Test Generator* | Unit Activities for Student* | Teach At Home Book (Available for Sale) |
| --- | --- | --- | --- | --- | --- |
| Blest Are We Faith and Word Parish | ✓ | ✓ | ✓ | ✓ | Home Program Guide (per grade) 64 pages $18.50. |
| Blest Are We Faith and Word School | ✓ | ✓ | ✓ | ✓ | |
| Blest Are We Faith and Word Spanish | | | | | |
Ebooks
*Purchase the print book and receive free access to the ebook and all digital resources on Flourish, RCL Benziger's online platform. When placing your order, tell the ComCenter customer service representative that you want access to Flourish and we will arrange it for you.
Digital Resources
Free with print book purchase. Available through Flourish digital platform.
eBooks for children, catechists, and teachers
eAssessments (Cohesive Assessment System)
Feast and Seasons lessons
Training videos for catechists and teachers
Assessment eBooklet (grades 1-8)
Activities & Projects (grades 1-8)
Director's Resource
Family Resource (grades 1-6)
Home Program Guide
Home Program Guides in print available for purchase at each grade level provide two-page lesson plans for each chapter for parents to teach children at home.
Shop Program
Blest Are We Faith and Word 2008, 1-8, Parish Edition
Blest Are We Faith and Word 2008, 1-8, School Edition
Bendecidos, 1-6