Finding God 2021, K-8
« All Online Digital Resources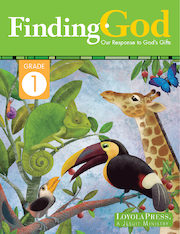 Catechist Resources
With the purchase of print teacher manual or catechist guide, customers automatically get online access to multimedia including video, music, dramatized Bible stories, interactive reviews, guided reflections.
Free Online Family Resources
Finding God offers parents and families materials specifically designed for use at home whether catechesis takes place in the parish, school, or home. From at-home, family friendly lesson plans, to interactive study guides. No password required.
Free Family Quick Guide
Use this guide to lead children from different grades or studying different chapters through their material at the same time. (English / Spanish)
E-newsletters
Shop Program
Finding God 2021, K-8, Parish Edition
Finding God 2021, K-8, School Edition