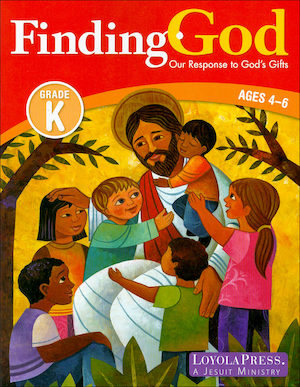 Finding God, K–8 — Loyola Press
Parish Edition
Our Response to God's Gifts
Finding God: Our Response to God's Gifts fosters a lifelong relationship with God by engaging children in the full and authentic teachings of the Catholic Church. Based on a spiral curriculum that integrates the fundamental themes of the Catechism as well as Scripture and Catholic social teachings. Each unit opens with the story of a saint whose holy life and response to God's love illustrate the unit theme. Catholic content is shared in a rich context with images, prayer and activities that draw young people into a deeper knowledge and expression of their faith. Each chapter follows and Engage, Explore, Reflect and Respond format. Catechist Guides include complete catechetical background, clear plans, step-by-step support and additional activities. Each guide includes two CDs, posters and a set of blackline masters.

Finding God, K–8 (©2013-14) has been found to be in conformity with the Catechism of the Catholic Church.


NOTE: Upon request, a free copy of Catholic Prayers for Catholic Families in English or bilingual will be included with the order of each student book. If you would like to receive these free items, select them below in a quantity equal to or less than the total number of Finding God student books in your order.
Filter By:
Age Level
Components