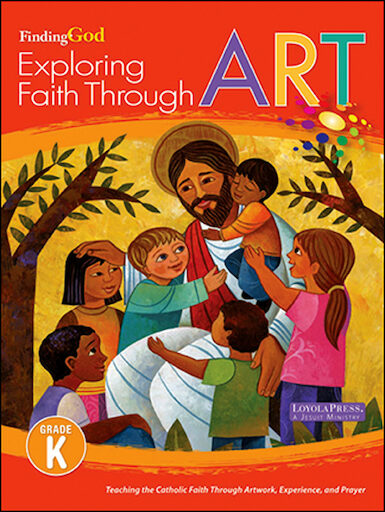 Finding God, K-6
Kindergarten Exploring Faith Through Art
Parish & School Edition
Publisher: Loyola Press
ISBN: 978-0-8294-4092-8
Item Number: LOYO-40928
View Complete Program
This product belongs to multiple programs:
Finding God, K-6, School Edition
Finding God 2013, K–6, Parish Edition
Finding God, Kindergarten, Parish Edition
Finding God, Kindergarten, Bilingual
Finding God, Kindergarten, School Edition
Finding God 2021, K-8, School Edition
Finding God 2021, K-8, Parish Edition
Details
An 18" x 24" art print easel for Kindergarten with twenty-three prints. Ideas for using the prints for experiential activities, prayer and other helps for the teacher are included on the back of the easel. Designed to be used with the Finding God series but can be used with any curriculum. However, art lessons make reference to pages in the Finding God student books.

Art Prints for Kindergarten:
1. God Creates Animals, miniature from the Bible of Souvigny
2. Peaceful Children, Amy M. Kuhl Cox
3. Adam and Eve, M. Jalal
4. Prophet Isaiah, Detail. Main portico. 12th century. Cremona Cathedral
5. Amen, Laura James
6. Mary Says Yes, Arthur Joseph Gaskin
7. Saint Joseph, Br. Mickey McGrath
8. Boys in a Pasture, Winslow Homer
9. Jesus Heals a Sick Man, Dmitry Shkolnik
10. Las Posadas, Stephen Morath
11. We Are the Church, Opening Procession of Vatican Council II, Franklin McMahon
12. The Calling of St. Peter and St. Andrew, Fra Angelico
13. Peter Preaches to the Jews at Pentecost, Arthur A. Dixon
14. 'You can have that, I have plenty', illustration from Heidi, Jessie Wilcox-Smith
15. Christ was born on Christmas Day, Pauline Baynes
16. Evening Prayer, John-Bagnold Burgess
17. Church Wedding, Edi Marivel Narrea Bellido
18. The Christening, Kathy Harker-Fiander
19. The Last Supper, W. K. Shebuyev
20. Saint Veronica, Zvonimir Atletic
21. Sisters and Friends, Aydee Lopez Martinez
22. Family Picnic, Phyllis Pollema-Cahill
23. Hug, Diane Duda
24. Saint Vincent de Paul, Gene Plaisted OSC
25. The Angels in the Tomb,Clive Uptton
Free chapter-by-chapter lesson plans, games and study guides for every grade.
Weight: 7.850 lbs
Case Qty: 1 ($110.00)
Identifiers:
0829440925
40928
9780829440928