Pertenecer: Bautismo en la familia de Dios — Ascension
Belonging: Baptism in the Family of God
Spanish. Prepares families for the sacrament of baptism, while reminding them of who they are as God's children and the significance of their vocation. Through moving stories and engaging presentations, Fr. Mike Schmitz explains that it is through baptism that we become sons and daughters of God and enter into his family. Parents will feel a stronger appreciation for and connection with the Church, their faith, and their parish as a home. A flexible schedule allows for one two-hour session or two one-hour sessions. Adaptable for a classroom setting or in the home with a host couple. After the event, couples receive a follow-up video in their email inbox every week for ten weeks, continuing to extend hospitality and catechesis to parents.
Online video access is available upon request. Simply mention it when ordering online or make a note in the Special Instructions at checkout on the website. Ascension will contact you with details about how to access the online materials. Online video access is available for 1 year from product purchase date. (©2018)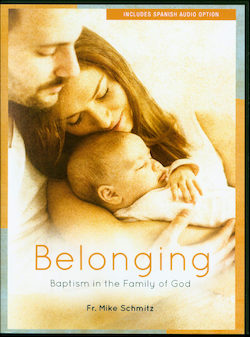 $49.95
Non-returnable
3 in stock. Out of print. No longer printed by the publisher.