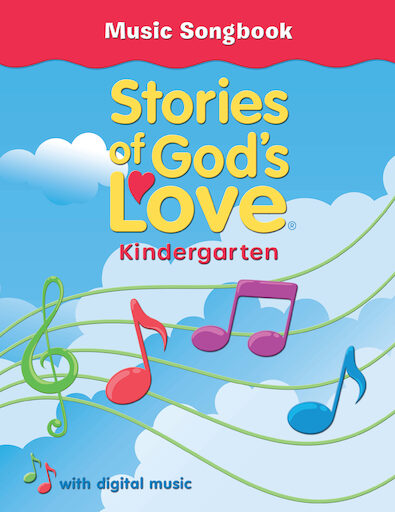 Stories of God's Love
Songbook with digital music
Kindergarten
Parish & School Edition
Publisher: RCL Benziger
ISBN: 978-1-79248-714-9
Item Number: RCLB-458714
Estimated ship date: about two weeks from ordering
Details
Original music and eleven prayer ervices for kindergarten reinforce the learning and invite participation and movement. Includes digital music and a songbook with chords and melodly lines. Each song included is in two formats: one provides vocals of adults and children singing the song; the other is an instrumental version that can be played as background music or as sing-along tracks when the children have learned the songs.
Song Listing: The Stories of God's Love; It Is Good!; The Ark Song; Let the Children Come to Me; The Good Shepherd; A Single Star; Just Talk to God; The Church's Family; Two Fishes and Five Loaves of Bread; Zaccheaus; Be a Good Neighbor.
Music is delivered digitally via RCL Benziger's Flourish audio. Request digital access when placing your phone order or make a note in the Special Instructions at checkout online. RCL Benziger will contact you with your Flourish username and password.
Weight: 0.338 lbs
Case Qty: 30 ($1,275.00)
Identifiers:
1792487142
458714
9781792487149