Blest Are We Faith and Word 2008, 1-8
Grade 1 Student Book
Includes Ebook and Digital Resources
Parish Edition
Publisher: RCL Benziger
ISBN: 978-0-7829-1322-4
Item Number: RCLB-441632
View Sample
Details
Student Books include five units, each with four chapters. Chapters are structured around the four pillars of the Catechism: Catholic faith, worship, life, and prayer. Each begins with a Take-Home page to involve parents in helping their children prepare for the chapter. Lessons follow a three-step learning process inviting the children to Share, to Hear and Believe, and to Respond. Each chapter includes Scripture and church teaching including statements of faith and Faith Words. Children respond through written work, activities and prayer. Chapters conclude with review exercises. Faith in Action pages highlight parish ministries and vocations. A write-in glossary and a mini-catechism are included at the back of each book. Updated with changes from the new translation of the Roman Missal.
Ebooks and Digital Content
One-year access to the digital student book is included with purchase of the print student book upon request. Also includes access to all digital content on the Flourish portal. Request digital access when placing your phone order or make a note in the Special Instructions at checkout on the website. RCL Benziger will contact you with your Flourish username and password. Unused access from previous years cannot be used at a later time.
Digital Online Resources to support Faith Formation
Weight: 1.653 lbs
Case Qty: 22 ($594.00)
Identifiers:
0782913229
441632
9780782913224
RCLB-S6001RE
Catechist Guide for Parish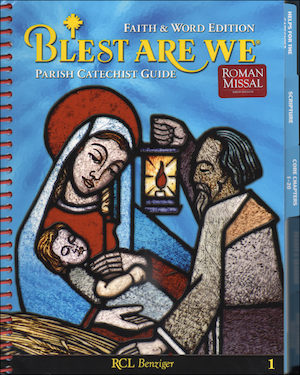 $92.00
RCLB-601328
More in This Program