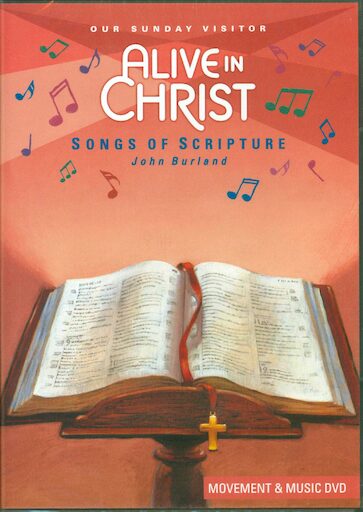 Alive in Christ, 1-8
Music DVD
Grades 1-6 Music DVD
Parish & School Edition
Publisher: Our Sunday Visitor
ISBN: 978-1-61278-455-7
Item Number: OSVP-CU5418
Details
Songs of Scripture DVD includes 8 of the songs for Grades 1-3 and 7 songs for Grades 4-6. Have your students learn simple gestures and movements from this easy-to-follow instructional DVD. Contains 14 songs with age-appropriate moves that make learning and celebrating Scripture fun and engaging. Suitable for elementary-ages children. Karaoke-style lyrics are included. Songs on the DVD:
1. Alive in Christ
2. Come and Follow Me
3. God Created You and Me
4. Have You Ever Seen A Mustard Seed?
5. I Am the Way
6. LOVE God
7. Manna in the Desert
8. Mary's Song of Praise
9. That You May Live
10. The Good Samaritan
11. The Great Commandment
12. The Holy Family
13. Upon This Rock
14. You've Got to Love Them
Weight: 0.180 lbs
Identifiers:
1612784550
9781612784557
CU5418