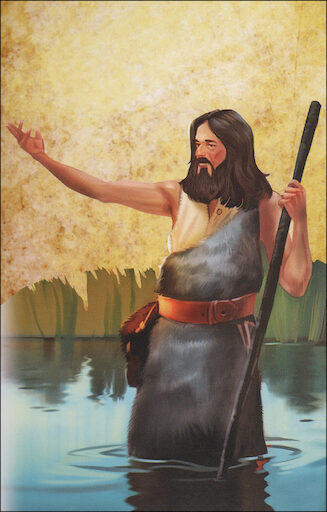 Alive in Christ, 1-8
St. John the Baptist
Grade 3 People of Faith Cards
Parish & School Edition
Publisher: Our Sunday Visitor
ISBN: 978-1-61278-076-4
Item Number: OSVP-CU5369
Non-returnable.
3 in stock. Out of print. No longer printed by the publisher.
Details
Package of 25 St. John the Baptist People of Faith cards which connect with a chapter in
Alive in Christ
Grade 3. Illustrated in an art style specifically chosen for third graders. Each card contains a prayer and brief biography on the back. A resource for any catechetical program.
Text on the back of the card:
Saint John the Baptist
First Century
Feast Day -- June 24
Saint John the Baptist was Jesus' cousin. An angel told John's father, Zechariah, that he and his wife would have a baby. Mary, the Mother of Jesus, visited Jesus when she was pregnant. John became a preacher. He prepared the way for Jesus by telling people the Good News that God would come to save his People. When Jesus was ready to start his ministry, John baptized him in the River Jordan. King Herod killed John for telling him that he was doing bad things.
Patron of many countries around the world. Saint John lived as a hermit in the desert of Judea.
Saint John, burning and shining light of the world, pray for us. Amen.
Digital Online Resources to support Faith Formation
Weight: 0.138 lbs
Identifiers:
1612780768
9781612780764
CU5369