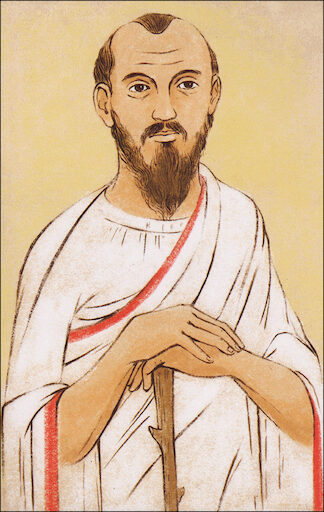 Alive in Christ, 1-8
St. Paul
Grade 2 People of Faith Cards
Parish & School Edition
Publisher: Our Sunday Visitor
ISBN: 978-1-61278-069-6
Item Number: OSVP-CU5362
6 in stock. Out of print. No longer printed by the publisher.
Details
Package of 25 St. Paul People of Faith cards which connect with a chapter in
Alive in Christ
Grade 2. Illustrated in an art style specifically chosen for second graders. Each card contains a prayer and brief biography on the back. A resource for any catechetical program.
Text on the back of the card:
Saint Paul
First Century
Feast Day -- January 25
Saint Paul did not always like the Christians. He helped put them in jail. One day, he heard a voice from above say, "Why are you persecuting me?" (Acts 9:4). It was Jesus. Paul realized he was wrong and he stopped hurting Christians. Instead, he traveled around telling people about Jesus and founding churches. He wrote letters to those churches to teach the people about God. He gave them advice on how to live and love Jesus. We read from his letters, called "Epistles," at Mass.
Patron of missions, theologians, and Gentile Christians. Saint Paul was a Roman citizen and a tentmaker.
Holy Saint Paul, give us always a deep love, hope and faith in Jesus, our Savior. Amen.
Weight: 0.140 lbs
Identifiers:
1612780695
9781612780696
CU5362