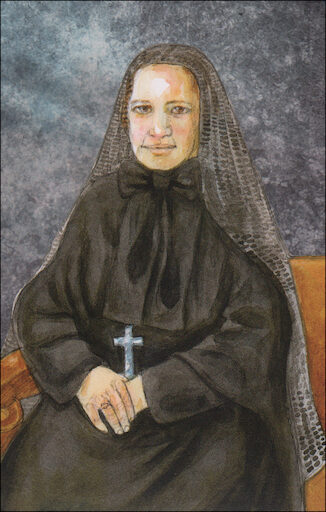 Alive in Christ, 1-8
St. Frances Cabrini
Grade 1 People of Faith Cards
Parish & School Edition
Publisher: Our Sunday Visitor
ISBN: 978-1-61278-061-0
Item Number: OSVP-CU5354
Non-returnable.
7 in stock. Out of print. No longer printed by the publisher.
Details
Overstock Clearance Price!
Package of 25 St. Frances Cabrini People of Faith cards which connect with a chapter in Alive in Christ Grade 1. Illustrated in an art style specifically chosen for first graders. Each card contains a prayer and brief biography on the back. A resource for any catechetical program.

Text on the back of the card:
Saint Frances Xavier Cabrini
1850-1917
Feast Day -- November 13
Saint Frances Xavier Cabrini lived in Italy. She wanted to go to China to teach the Chinese people about God. Pope Leo XIII asked her to go to the United States instead. Mother Cabrini had a choice. She could obey the Pope or she could try to go to China. She decided to obey the Pope, so she left Italy and went to the United States. She began her work with poor Italians in New York, but she and her sisters build schools, orphanages, shelters, and hospitals in many different cities.

Patron of immigrants and hospital administrators, Mother Cabrini was the first United States citizen to be canonized.

Dear Saint Frances, help all those who are in hospitals to get well. Amen.
Digital Online Resources to support Faith Formation
Weight: 0.141 lbs
Identifiers:
161278061X
9781612780610
CU5354