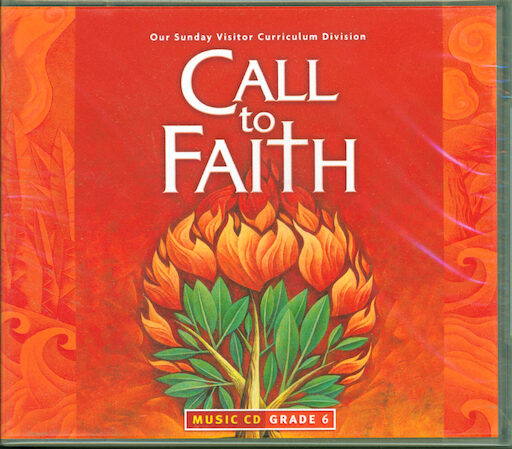 Call to Faith, K-8
Grade 6 Music CD
Set of 2
Parish & School Edition
Publisher: Our Sunday Visitor
ISBN: 978-0-15-901521-6
Item Number: OSVP-CU0639
Non-returnable.
2 in stock. Out of print. No longer printed by the publisher.
Details
Music CD offers a repertoire of liturgical music to accompany every chapter and every seasonal celebration. Thirty songs on 2 CDs.
CD1 includes: Spirit-Friend; Praise and Thanksgiving; Hold Us in Your Mercy; Psalm 23: My Shepherd Is the Lord; Sing a New Song to the Lord; This is My Commandment; People of God/Alleluia; Walking By Faith; Prepare the Way of the Lord; Good News; Send Us Your Spirit; There Is One Lord; Jesus Christ, Yesterday, Today and for Ever; We Are Called; Behold, I Make All Things New; Lord, You Give the Great Commission; May the Lord, Might God; For Your Gracious Blessing; We Sing of the Saints; All Are Welcome; and Bring Forth the Kingdom.
CD2 includes: Sing of Mary, Meek and Lowly; Prepare the Way of the Lord; Prayer of Peace; Guide My Feet; Return to God; Now We Remain; Jubilate Servite/Raise a Song of Gladness; Send Us Your Spirit; and We Are Called (Call to Faith Theme Song); and We Are Called (Instrumental).
Weight: 0.175 lbs
Identifiers:
0159015219
9780159015216
CU0639