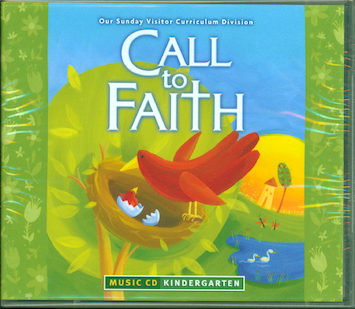 Call to Faith, K-8
Kindergarten Music CD
Set of 2
Publisher: Our Sunday Visitor
ISBN: 978-0-15-901500-1
Item Number: OSVP-CU0618
Out of print
Not available.
Details
Music CD offers a repertoire of liturgical music to accompany every chapter and every seasonal celebration. Thirty songs on 2 CDs.
CD-1 Includes: All Things Bright and Beautiful; All Grownups, All Children; Praise to You, O Christ Our Savior; We Are the Church; Love One Another; Psalm 126: The Lord Has Done Great Things; We Are Walking in the Light; and a complete Instrumental set of these songs.
CD-2 Includes: Immaculate Mary; O Come, O Come Emmanuel; Go Tell It on the Mountain; Sing Out, Earth and Skies; Lead Me, Guide Me; Jesus, Remember Me; Alleluia, Alleluia, Give Thanks; Send Us Your Spirit; We Are Called (Call to Faith Theme Song); and We Are Called (Instrumental).
Weight: 0.175 lbs
Identifiers:
0159015006
9780159015001
CU0618