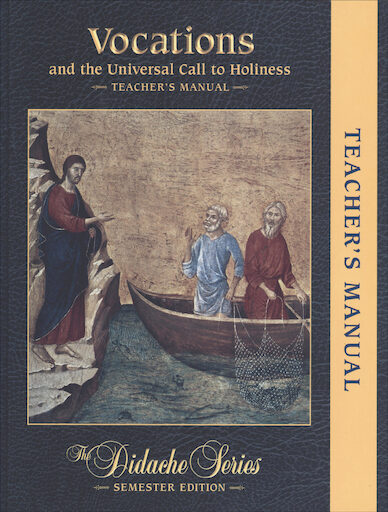 The Didache Semester Series
Vocations and the Universal Call to Holiness
Teacher Manual
Publisher: Midwest Theological Forum
ISBN: 978-1-939231-04-8
Item Number: MWTF-31048
Details
Developed for Curriculum Framework Elective Option D: Responding to the Call of Jesus.
Resources in this manual include:
The student textbook;
Detailed lesson plans for each chapter, complete with Anticipatory Sets, Focus Questions, Guided Exercises, Closure activities, and Alternative Assessments;
End of Chapter Materials, including Long-Term Assignments, answers to the Study Questions in the student textbook, responses to the Practical Exercises, and notes for presenting additional information from the Catechism of the Catholic Church;
Answers to the Student Workbook;
Chapter Tests, Quizzes, and Vocabulary Reviews with answer keys;
A collection of Catholic Prayers and Devotions.
Downloadable tests, quizzes, and vocabulary reviews are available. Ask for access when you call to order or make a note in special instructions at checkout online. We will email you with access instructions. Paperback, 8.5 x 11, 618 pages.
Weight: 3.160 lbs
Identifiers:
1939231043
31048
9781939231048