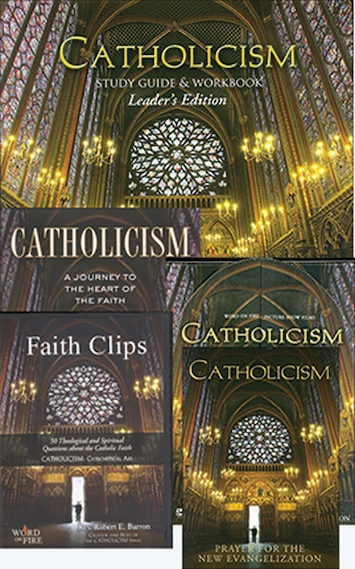 Catholicism Study Program
Leader Kit
$159.96 Save 20%
Retail price: $199.95
Publisher: Word on Fire
ISBN: 978-0-9832334-4-2
Item Number: CATW-233442
Out of print.
Not available.
Details
The True Story of the Catholic Faith.
Answering the call for the New Evangelization, this multi-media faith formation program reveals the truth, beauty and richness of the Catholic faith. Explores the art, architecture, literature, music and all the riches of the Catholic tradition. Filmed on location in 15 countries and featured on PBS.
Leader Kit
includes:
1. Leader Edition Study Guide and Workbook with extensive commentary on the theological content of each episode, plus
Questions for Understanding
(with suggested responses) and
Questions for Application
. Also provides direction on how to host and facilitate a group study in either 12 or 22 sessions.
2.
Catholicism: A Journey to the Heart of the Faith
, a book based on a detailed rendering of the scripts from the DVD series with photos from the filming locations
3. The 10-episode DVD set; each episode runs 50-60 minutes
4. A set of 40 prayer cards for the New Evangelization
5. The Faith Clips DVD which contains 50 of the most frequently asked questions on the Catholic faith and a clear, concise video response from Fr. Barron on each one.
Instructions for free downloadable promotional materials are also available in the Kit. (©2011)
Weight: 1.945 lbs
Case Qty: 1
Identifiers:
0983233446
233442
9780983233442