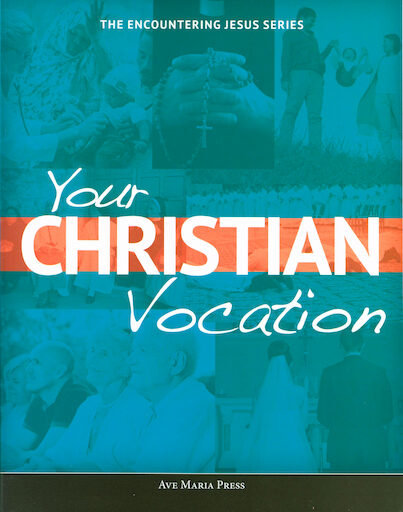 Encountering Jesus Series
Your Christian Vocation
Student Text
Paperback
Publisher: Ave Maria Press
ISBN: 978-1-59471-745-1
Item Number: AVEP-717451
Details
Developed for Curriculum Framework Elective Option D: Responding to the Call of Jesus.
Understanding the rewards of a lifelong commitment to Christ is the most important goal of a new high school religion textbook from Ave Maria Press. Your Christian Vocation helps students learn how to live their lives to the benefit of others as they consider a vocation of service—in marriage, priestly or consecrated life, or the single life—to the Church and their own communities.
Students will explore a variety of topics in each vocation, including friendship, dating, and courtship related to choosing a spouse; family planning and raising children; the importance of the Sacrament of Holy Orders to the whole Church; priestly celibacy; and other forms of religious life including religious institutes, eremites, consecrated virgins and widows, secular institutes, and societies of apostolic life.
Students will find the encouragement and practical skills to practice discernment for their lifelong vocation. They'll also learn how to consider the differences between vocation, jobs, and career. A bonus chapter on the single life is available online, along with a variety of teacher resources.
Your Christian Vocation replaces the Marriage and Holy Orders textbook. Paperback, 8.5 x 10.5, 372 pages. Approved by the Bishops' Committee. (©2020)
Weight: 2.280 lbs
Case Qty: 16 ($479.20)
Identifiers:
1594717451
717451
9781594717451
Teaching Guide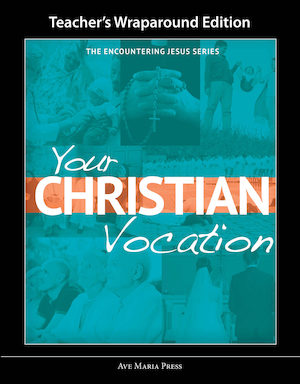 $44.95
AVEP-717475
More in This Program