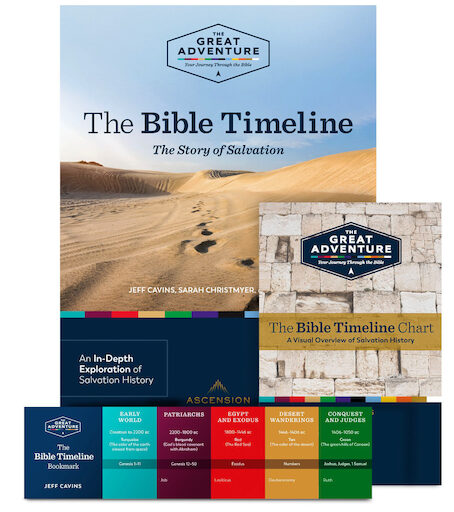 The Bible Timeline 2019
Study Set
+ online access to videos and workbook for one year
Publisher: Ascension
ISBN: 978-1-945179-84-6
Item Number: ACEN-179846
Details
2019 Edition. This Study Set is essential for each participant and small-group facilitator. It includes:
The fold-out Bible Timeline Chart
The Bible Timeline Bookmark
Engaging study questions
Responses to the questions
Talk notes for the video presentations
Maps, charts, and diagrams that bring salvation history to life
Part of The Great Adventure: Your Journey through the Bible. Jeff Cavins.
This 2019 Edition features updated content, new maps and an improved look. Workbooks have a more readable font, full-color graphics and photos and layouts that make the content easier to understand. Videos in the new 2019 edition have been remastered with enhanced sound and picture quality. Basic content is the same as 2006 edition.
Weight: 1.812 lbs
Case Qty: 20 ($759.00)
Identifiers:
1945179848
9781945179846