Be My Disciples, 1-6
« All Online Digital Resources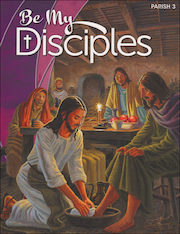 | | Free Student Ebook(with purchase of Print Book)* | Free Teacher Guide Ebooks (with purchase of Print Book)* | Free Access to Test Generator* | Unit Activities for Student* | Home Family Guide Book (Available for Sale) |
| --- | --- | --- | --- | --- | --- |
| Be My Disciples Parish | ✓ | ✓ | ✓ | ✓ | At Home Family Guide. |
| Be My Disciples School | ✓ | ✓ | ✓ | ✓ | At Home Family Guide. |
| Be My Disciples Bilingual Parish | | | | | |
| Be My Disciples Junior High | ✓ | ✓ | ✓ | ✓ | |
Ebooks
*Purchase the print book and receive free access to the ebook and all digital resources on Flourish, RCL Benziger's online platform. When placing your order, tell the ComCenter customer service representative that you want access to Flourish and we will arrange it for you.
Digital Resources
Free with print book purchase. Available through Flourish digital platform.
eBooks for children, catechists, and teachers
eAssessments (Cohesive Assessment System)
Feast and Seasons lessons
Assessment eBooklet (grades 1-8)
Activities (grades 1-8)
At Home Guide
Print Resources
With My Family: Two-page summary of each chapter in the student book with discussion ideas, activities, and prayer.
At Home Family Guide: lesson plans for teaching all the children in the family across multiple grades together at home.
Summer Program Guide: instructions on teaching the program to all grade levels in a six-week summer session.
Student books
Catechist and teacher guides
Additional Activities
Assessment Tools
Program Director's Resource
Additional Resources
Games, prayers and activities are available at http://bemydisciples.com.
Shop Program
Be My Disciples, 1-6, Parish Edition
Be My Disciples, 1-6, School Edition
Be My Disciples, Jr. High, Parish Edition
Sean mis Discipulos, 1-6