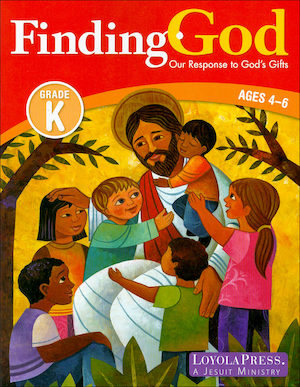 Finding God, K-8 — Loyola Press
School Edition
Our Response to God's Gifts
Fosters a lifelong relationship with God by engaging children in the full and authentic teachings of the Catholic Church. Based on a spiral curriculum that integrates the fundamental themes of the Catechism as well as Scripture and Catholic social teachings. With exploration of Scripture, Church tradition and prayer integrated into every session, children learn the fundamentals of the Catholic faith. Through active-learning strategies that serve a variety of learning styles, children participate, learn, and grow in knowledge, faith, and discipleship. The series features reflection, prayer, multisensory learning, inclusion and parent resources.

Finding God, K-8 (©2013-14) has been found to be in conformity with the Catechism of the Catholic Church.

NOTE: Upon request, a free copy of Catholic Prayers for Catholic Families (English or bilingual) will be included with the order of each student book. If you would like to receive these free items, select them below in a quantity equal to or less than the total number of Finding God student books in your order.