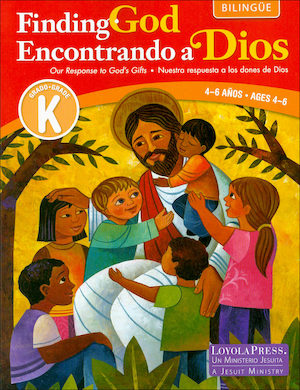 Encontrando a Dios, K-8 — Loyola Press
Bilingual Edition for Grades K-8. A faith formation program that integrates prayer, Scripture, church tradition, and catholic social teaching into lessons that foster a lifelong relationship with God and knowledge of the full teachings of the Catholic Church. With sacred art, multiple opportunities for prayer, and an awareness of the different learning styles of children, Encontrando a Dios provides a comprehensive faith formation curriculum. With abundant parent resources such as family e-newsletters, an at-home edition and prayer books that build the home-faith connection.

Bilingual Student Books features a five step learning process with unit openers, stories of saints, application to the child's life, deepening understanding of Scripture and doctrine, various forms of prayer, and ways for children to respond to what they have learned. Celebrating and Seasonal Sessions highlight the Mass and the liturgical year.

Bilingual Catechist Guides include catechetical background, clear plans, step-by-step support and additional activities. Catechists of all experience levels are supported with guidance and tools. Each Catechist Guide Kit includes dramatized Scripture stories, and guided reflections in English on CD with printed transcripts and scripts in Spanish, posters in English and Spanish, and reproducible blackline masters including assessments and activities.

Encontrando a Dios, K-8 (©2015) has been found to be in conformity with the Catechism of the Catholic Church.
Filter By:
Age Level
Components