Spirit of Truth High School
The Church Is Christ's Living Body, ebook (1 Year Access)
Student Text
Ebook
Publisher: Sophia Institute for Teachers
UPC: 9781644134047ET
Item Number: SOPH-827749ET
View Sample
Not a physical item. Takes a day to process.
Details
Spirit Of Truth: The Church Is Christ's Living Body Student Textbook - Course 4 Ebook (1 Year Access)
Developed for Curriculum Framework Course 4: Jesus Christ's Mission Continues in the Church.
Students will learn of the of the origin, foundation, and manifestation of the Catholic Church, established by Jesus Christ during His earthly life to continue His saving mission until the end of time. Through their exploration of the Church, students will consider various images of the Church, the four marks of the Church, and the role of the Church in the life of the believer.
Identifiers:
9781644134047ET
Teaching Guide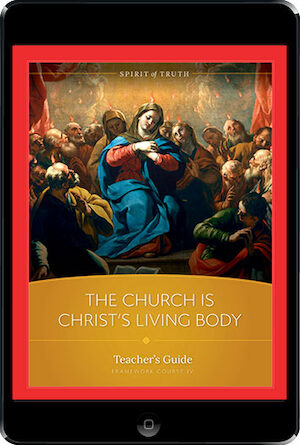 $29.99
SOPH-827961ET
More in This Program