Spirit of Truth High School
Christ's Church and World Religions ebook (1 Year Access)
Student Text
Ebook
Publisher: Sophia Institute for Teachers
UPC: 9781622827688ET
Item Number: SOPH-827688ET
Not a physical item. Takes a day to process.
Details
Spirit of Truth: Christ's Church and World Religions Student Textbook - Framework Course E ebook (1 Year Access)
Developed for Curriculum Framework Elective Option E: Ecumenical and Interreligious Issues.
This course examines various major world religions through a lens of comparison to the Catholic Faith with the goal of strengthening students' own Catholic faith. Students will come to understand what the Church teaches regarding salvation and how the Church relates to non- Catholic Christian faiths and other non-Christian faith traditions. They will come to recognize not only important ways Catholicism and other world religions differ, but also the presence of reflections of truth, goodness, and beauty present in different religious traditions and how those reflections can serve as seeds for the Gospel message.
Identifiers:
9781622827688ET
Teaching Guide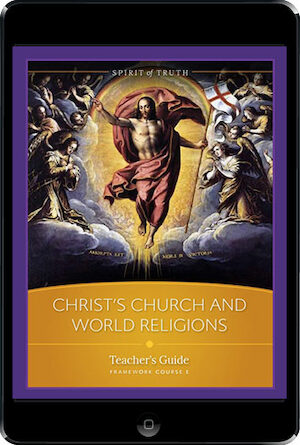 $29.99
SOPH-827909ET
More in This Program