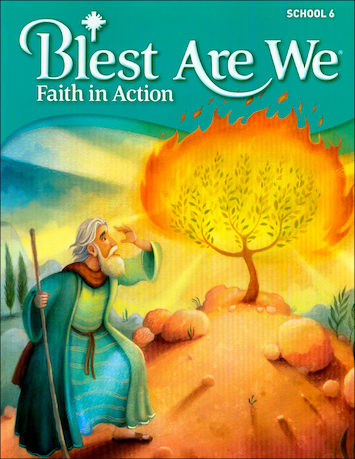 Blest Are We Faith in Action, K-8
Grade 6 Student Book
For Schools
Publisher: RCL Benziger
ISBN: 978-0-7829-1738-3
Item Number: RCLB-601738
In stock.
Details
Buy the Student textbook and receive the ebook for free upon request!*
Blest Are We Faith in Action invites all learners to explore and grow in Faith, Word, and Action. Building on the legacy of the Blest Are We series, Blest Are We Faith in Action provides some new and different features.
Blest Are We Faith in Action clearly states that it is a thematic program. Grade 6 themes focus on the Old Testament. Redesigned thematic logo in the Teacher Guide clearly depicts the movement of the four chapters in each unit, which correlate to the four pillars of the Catechism: What Catholics Believe, How Catholics Worship, How Catholics Live, and How Catholics Pray.
Scripture
The New American Bible Revised Edition (NABRE) translation is used in Grades 4-8.
All Scripture passages are in Scripture blue.
An oil lamp symbol designates Scripture passages and quotes.
Engaging Scripture illustrations by a single artist in each grade level provide continuity for studying Scripture.
Take-Home pages
Redesigned first page is colorfully engaging and user-friendly.
Images for Saint of the Week have been added in a wide variety of illustration styles.
BlestAreWe.com, SaintsResource.com, and RCLBLectionary.com references have been added throughout the book.
Faith in Action
New design is colorful, engaging, and emphasizes the Faith in Action feature in this series.
More emphasis is given, especially in the Teacher Guide, for a greater connection with specific principles of Catholic Social Teaching.
* Purchase one student textbook and, upon request, receive your first year subscription to the ebook absolutely FREE!
Weight: 1.773 lbs
Case Qty: 20
Identifiers:
0782917380
601738
9780782917383
Teacher Manual for School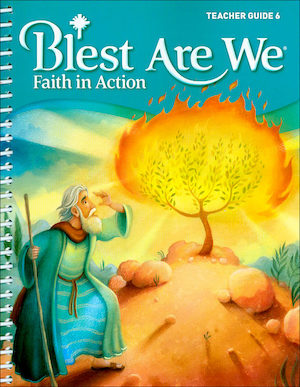 $81.00
RCLB-601747
More in This Program