Blest Are We Faith in Action, K-8
Grade 1 Student Book
Includes Ebook and Digital Resources
School Edition
Publisher: RCL Benziger
ISBN: 978-0-7829-0416-1
Item Number: RCLB-600416
Details
Blest Are We Faith in Action is a thematic program. Grade 1 themes include an introduction to Family – My Family, Holy Family, and Church Family. Redesigned thematic logo in the Teacher Guide clearly depicts the movement of the four chapters in each unit, which correlate to the four pillars of the Catechism: What Catholics Believe, How Catholics Worship, How Catholics Live, and How Catholics Pray.
Scripture
"Based on" Scripture is provided in Grades 1, 2, and 3 to more effectively share the Good News in an age-appropriate manner.
Short Scripture quotes for memorization are provided in the Grade 1 Teacher Manual and in Grades 2 and 3 student books.
All Scripture passages are in Scripture blue.
An oil lamp symbol designates Scripture passages and quotes.
Engaging Scripture illustrations by a single artist in each grade level provide continuity for studying Scripture.
Faith in Action
Design is colorful, engaging, and emphasizes the Faith in Action feature in this series.
More emphasis is given, especially in the Teacher Manual, for a greater connection with specific principles of Catholic Social Teaching.
Ebooks and Digital Content
One-year access to the digital student book is included with purchase of the print student book upon request. Also includes access to all digital content on the Flourish portal. Request digital access when placing your phone order or make a note in the Special Instructions at checkout on the website. RCL Benziger will contact you with your Flourish username and password. Unused access from previous years cannot be used at a later time.
Digital Online Resources to support Faith Formation
Weight: 1.978 lbs
Case Qty: 16 ($344.00)
Identifiers:
0782904165
600416
9780782904161
Teacher Manual for School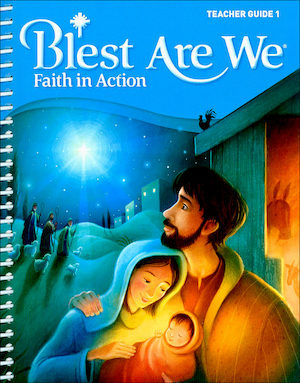 $88.00
RCLB-601742
More in This Program