Blest Are We Faith in Action, K-8
Grade 3 Student Book
Includes Ebook and Digital Resources
Parish Edition
Publisher: RCL Benziger
ISBN: 978-1-5249-4438-4
Item Number: RCLB-444438
Details
Includes one year ebook subscription FREE upon request!
The Blest Are We Faith in Action religious education program was developed according to the four pillars, or parts, of the Catechism of the Catholic Church. These four parts of the Catechism are identified by the words Believe, Worship, Live, and Pray.
INTEGRATED APPROACH
Each unit of Blest Are We Faith in Action is based on a particular theme or area of Catholic belief and practice. This theme is studied over four individual chapters that correspond to the four pillars of the Catechism: What Catholics Believe, How Catholics Worship, How Catholics Live, and How Catholics Pray. In this way, the essentials of Catholic teaching are presented to the children in an integrated and balanced approach that helps them learn and deepen their faith and Catholic identity.
THEMATIC CURRICULUM
The General Directory for Catechesis calls for the teaching of doctrine in such a way that basic concepts learned in the primary grades are further developed each year as the children grow in their capacity to understand and practice their faith. Blest Are We Faith in Action does this through a thematic approach at each grade level. Learning is reinforced from year to year, but the knowledge of the Catholic faith is expanded through the theme, providing opportunities for the learners to deepen their faith.
GRADE-LEVEL THEMES
Each level of Blest Are We Faith in Action concentrates on a particular area of the Catholic faith. These grade-level themes are determined by the needs of the parish to prepare the children to receive the Sacraments and experience parish life and by the children's readiness for understanding and integrating religious concepts.
PARISH STUDENT BOOKS
Student books for parish programs provide effective ways to empower students for a lifetime of faith by giving them opportunities to:
Build Scripture literacy
Relate parish ministries to Catholic Social Teaching
Learn more about the liturgical life of the Church
Retain what they've learned through Chapter and Unit Reviews
Connect home and parish using the Take Home family pages
STUDENT BOOK FEATURES
TAKE HOME PAGES: These pages help families connect with their faith communities and share experiences related to each chapter theme.
HEAR & BELIEVE: After an opening prayer and activity, the Hear & Believe pages connect Scripture and Catholic doctrine to the lesson theme.
RESPOND: Saints and other holy people are brought to life through inspiring stories.
FAITH IN ACTION: A response page reinforces the child's sense of belonging to the universal Church and his or her parish community.
CHAPTER REVIEW: Recall and reinforce.
Digital Online Resources to support Faith Formation
Weight: 1.306 lbs
Case Qty: 28 ($588.00)
Identifiers:
1524944386
444438
9781524944384
Catechist Guide for Parish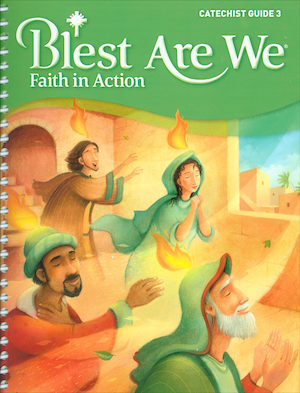 $83.00
RCLB-444612
More in This Program