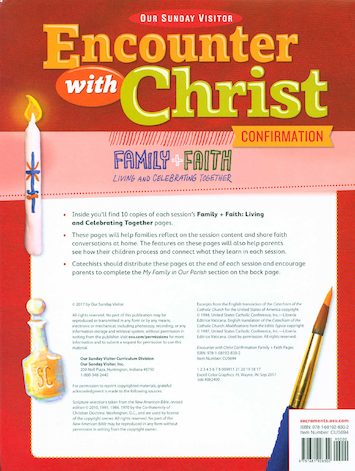 Encounter with Christ: Confirmation
Family & Faith Sessions 1-4
Pack of 40, enough for 10 families
Publisher: Our Sunday Visitor
ISBN: 978-1-68192-830-2
Item Number: OSVP-CU5694
Returnable within 90 days.
Not in stock. Estimated ship date: about two weeks from ordering
Details
Family + Faith Living and Celebrating Together pages connect what is learned in each session to family and parish life. These four-page resources help parents understand session outcomes, how their child processes the information, and ways to share faith conventions with the family. This resource facilitates an awakening to the vocation of parenting. Pack includes 10 copies of each session, enough for 10 families.

Identifiers:
1681928302
9781681928302
CU5694