Vocabulary in Action
Grade 5 Student Book
Level E
Ebook
Publisher: Loyola Press
ISBN: 978-0-8294-5197-9
Item Number: LOYO-51979
Not a physical item. Takes a day to process.
Details
Ebook (1 year access). Program features:
• Research-based Word Lists selected for frequency, occurrence, and relevance to assessment and everyday life
• Application of skills through practice exercises, assessments, and standardized test preparation opportunities
• Ample activities per chapter, including activities for words in context, word meaning, word usage, related words, and word building
• Test-Taking Tips section covering test-taking skills, testing formats, and study of testing vocabulary including classic roots, prefixes, and suffixes
Student Workbook helps students learn new words by using them in context. Vocabulary exercises include interactive vocabulary games, quizzes and more.
Identifiers:
0829451978
9780829451979
Teaching Guide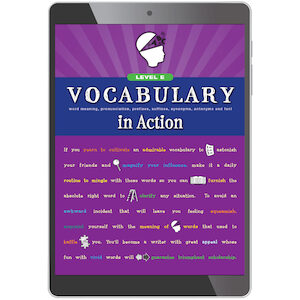 $15.50
LOYO-55090
More in This Program