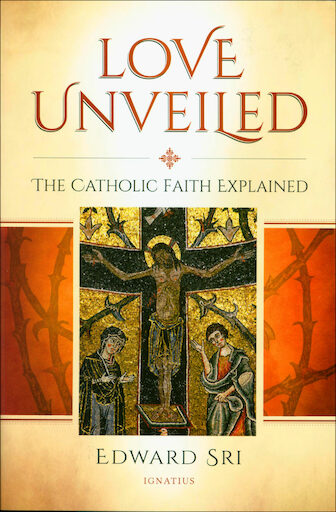 Love Unveiled
The Catholic Faith Explained
$14.36 Save 20%
Retail price: $17.95
Publisher: Ignatius Press
ISBN: 978-1-62164-213-8
Item Number: IGNP-642138
Details
Using the Catechism of the Catholic Church as his itinerary, author Edward Sri walks readers through all the important aspects of the Catholic Church--what Catholics believe about God and the difference it should make in life. Along the way, he addresses questions such as:
1. Why do I need the church--can't I be spiritual on my own?
2. Isn't one religion as good as another?
3. How is the death of a man two thousand years ago relevant for my life today?
4. Why does the church talks so much about morality? Can't I make up my own morals?
5. Is it really our responsibility to care for the poor? Doesn't God help those who help themselves?
6. Why do Catholics and Protestants disagree?
7. Must Catholics worship Mary and always obey the pope?
More than an intellectual enterprise, this work is also a deep spiritual reflection and a practical guide to living out faith in Christ. It aims to form both the head and the heart, not only helping readers understand Jesus and his plan of salvation, but inspiring them to love God and neighbor better. Paperback, 5.25 x 8, 295 pages. (©2015)
Weight: 0.729 lbs
Case Qty: 32 ($459.52)
Identifiers:
1621642135
642138
9781621642138