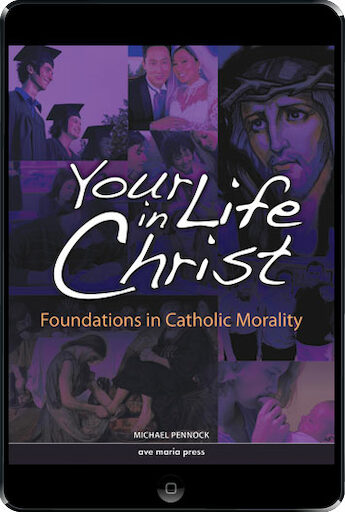 Ave Maria Press Framework Series
Your Life In Christ, ebook (1 Year Access)
Student Text
Foundations in Catholic Morality
Ebook
Publisher: Ave Maria Press
UPC: 9781594714030ET
Item Number: AVEP-714030ET
Not a physical item. Takes a day to process.
Details
Presents material for Curriculum Framework Course VI: Life in Jesus Christ.

Ebook (1 Year Access). The revised second edition of Your Life in Christ offers students practical suggestions for coping with the often-complex problems of faith, morality and justice. The text approaches these issues through focusing on God's love for people, while stressing the importance of loving one's neighbor and being true to one's beliefs.

Student Text Table of Contents:
1. The Gift of Being Human
2. Making Moral Decisions
3. Law as a Guide to Freedom
4. Jesus as Moral Guide
5. Conscience Formation
6. Sin and Forgiveness
7. Love for God
8. Respect for Life
9. Respect for the Gift of Sexuality
10. Respect for Justice and Truth.
Ebook, 288 pages. Approved by the Bishops' Committee. (©2008)
Identifiers:
9781594714030ET