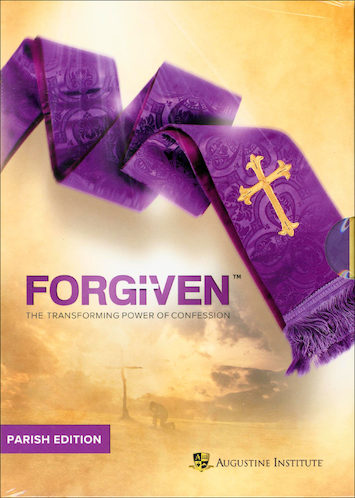 Forgiven
DVD Set
Publisher: Augustine Institute
UPC: A IForg iven0 1
Item Number: AUGS-AIFORGIVEN01
In stock.
Details
Includes 5 DVDs featuring:
Episode 1: Where are You? (31 minutes)
Episode 2: An Encounter of Mercy (26 minutes)
Episode 3: Embraced in Mercy: The Rite Explained (33 minutes)
Episode 4: For Children: How to Make a Good Confession (14 minutes)
Presentation by Dr. Tim Gray: Biblical Foundations--Sin, Mercy, and the Sacrament of Confession (65 minutes)
Presentation by Dr. Edward Sri: Answering Common Questions about Confession (38 minutes)
For Parents: Preparing Your Child for First Confession (44 minutes)
For Catechists: Revealing Mercy in a Merciless World (48 minutes)
For Parish Staff: Strategies on How to Promote Confession (37 minutes)
Plus three bonus talks:
The Mission to Love: 7 Keys to Catholic Parenting (55 minutes)
The Gift of Godparents: More than Cards and Presents (38 minutes)
Evangelization through Baptism: A Catechist Training for Forgiven (46 minutes)
Watch the first 3 episodes, plus the session for children in Spanish or English.
Weight: 1.246 lbs
Identifiers:
697691696300
AIForgiven01