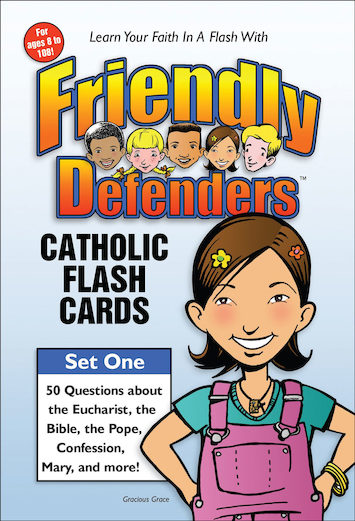 Friendly Defenders: Catholic Flashcards
Set 1
$9.59 Save 20%
Retail price: $11.99
Price and availability not guaranteed.
Publisher: Ascension
ISBN: 978-0-9659228-1-4
Item Number: ACEN-922814
Returnable within 90 days.
Not in stock. Estimated ship date: about two weeks from ordering
Special order item: Price and availability not guaranteed.
Details
Ages 8+. Fifty Catholic flashcards to help children understand God's love and the truths of the Catholic faith. Answers some of the most commonly-asked questions about God, Jesus, the Bible, the Catholic Church, the afterlife, and more. Cards are color-coded by category and topic with a question on one side and an answer on the other. Answers are supported by Bible verses and additional explanations.

Identifiers:
0965922812
922814
9780965922814