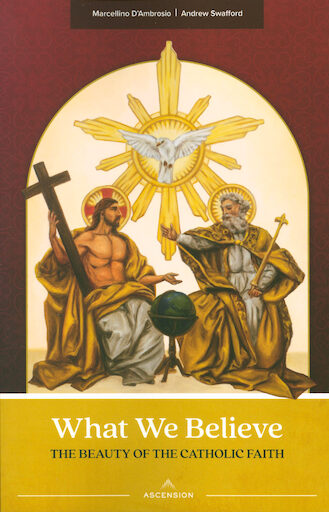 What We Believe
What We Believe: The Beauty of the Catholic Faith, book
Publisher: Ascension
ISBN: 978-1-954881-45-7
Item Number: ACEN-881457
Estimated ship date: June 14, 2023
Details
Written by Marcellino D'Ambrosio and Andrew Swafford, What We Believe presents and explains the essential teachings of the Catholic Faith in a readable, approachable way. In it you will discover:
What Catholics truly believe
Who Catholics are and how we are called to live
The blessings of Creation, redemption, and newness of life in the Holy Spirit
The profound gift of the sacraments, especially the Holy Eucharist, the source and summit of our Faith
How to imitate Christ through prayer, through personal conversion, and through love for others.
And more!
Weight: 0.475 lbs
Identifiers:
1954881452
881457
9781954881457