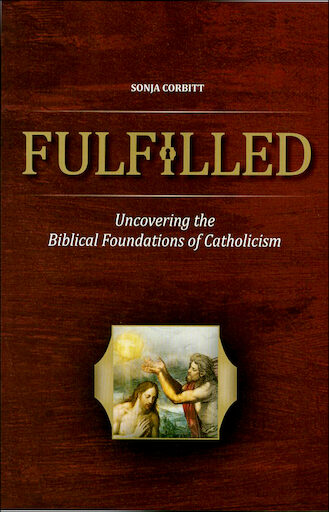 Fulfilled (Part One)
Fulfilled
Uncovering the Biblical Foundations of Catholicism
Publisher: Ascension
ISBN: 978-1-945179-28-0
Item Number: ACEN-179280
Non-returnable.
Estimated ship date: about two weeks from ordering
Special order item: Price and availability not guaranteed.
Details
Fulfilled is a book and a two-part study exploring the biblical roots of the Catholic Faith. It uncovers God's consistent design for our worship of him and his relationship with us. Participants will learn how the Old Testament Tabernacle can be used as a blueprint for the Catholic Faith and how Jesus fulfilled it in the New Testament. This book was written by Sonja Corbitt to accompany and is needed for both studies: Fulfilled - Part One and Fulfilled - Part Two (coming later in 2018).
Explain how Jesus fulfills the Old Testament
Share the Catholic Faith concisely
Acquire a thorough knowledge of the Tabernacle's design and its function as a blueprint for the Faith
Learn how to answer incomplete and non-Catholic interpretations of the Bible
Examine your own faith and grow deeper in your relationship with Christ
Each participant needs a copy of this book and workbook. They can be purchased separately and are also available together in the Study Set.
Weight: 0.844 lbs
Case Qty: 36 ($467.64)
Identifiers:
179280
1945179287
9781945179280