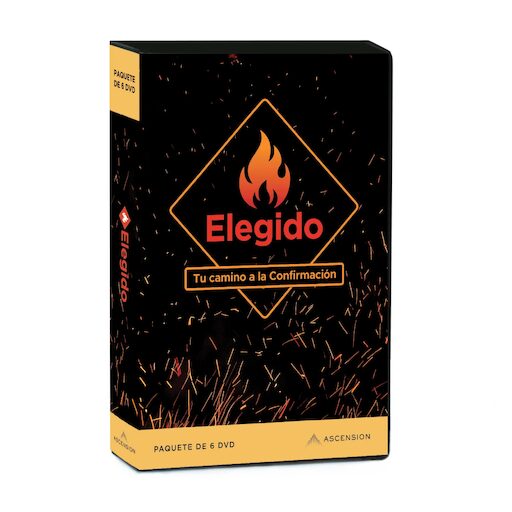 Elegido: Tu Camino a la Confirmación
DVD Set
Publisher: Ascension
UPC: 8 11661 01822 4
Item Number: ACEN-018224
Details
The 6-DVD Set provides twenty-four lessons (approximately 15-20 minutes each) with some of the most powerful and compelling speakers in the Church.
Chosen was filmed in over fifty locations in the United States and around the world. It is designed to keep teens' attention with the right balance of faith, fun, and powerful videos, which will challenge their existing perspectives on the meaning of life and their ultimate call to holiness and happiness.
Locations and settings include Times Square, Los Angeles, St. Peter's Square, New Orleans, Florence, Cape May, Rome, Washington D.C., skydiving, Nashville, Division I college basketball, Mount Saint Mary Seminary, the Bronx, raceway, Hollywood, and Independence Hall.
Chosen Presenters:
Chris Stefanick (Host)
Jackie Francois Angel (Host)
Deacon Harold Burke-Sivers
Brian Butler
The Dominican Sisters of St. Cecilia
Jason Evert
Fr. Josh Johnson
Mari Pablo
Chris Padgett
Fr. Mike Schmitz
Sarah Swafford
Fr. Mark Toups
Mary Ann Wiesinger Puig
Leah Darrow
Franciscan Friars of the Renewal
About Chosen:
The revised edition of Chosen features the same great video content now with amazing new animations and graphics to help keep your teens focused. Chosen: Your Journey to Confirmation is a twenty-four-lesson program that provides everything you need to prepare your students both intellectually and spiritually to receive the Sacrament of Confirmation and to become lifelong disciples of Christ.
Weight: 0.532 lbs
Case Qty: 30 ($5,998.50)
Identifiers:
018224
811661018224