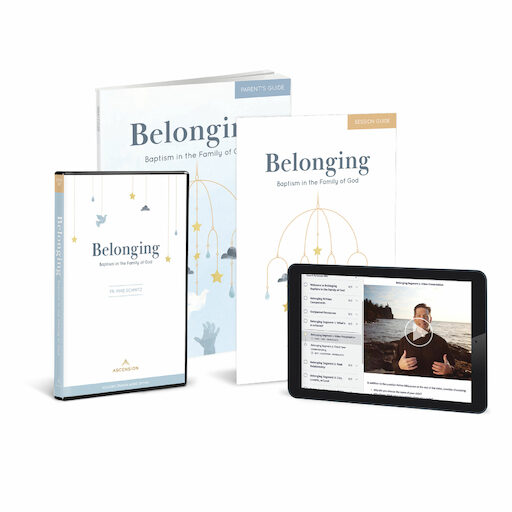 Belonging: Baptism in the Family of God, Revised
Starter Pack
+2 online registration credits
Publisher: Ascension
UPC: 8 11661 01629 9
Item Number: ACEN-016299
Details
This Starter Pack contains the program components for Belonging.
Parent Guide
Session Guide
DVD Set
The Belonging Parent's Guide provides these parents with deep, holistic, beautiful presentation of what a Catholic life will look like for their child and their family. It is more than a simply a summary of what the rite itself will be like. It introduces these parents and their child to life as a Catholic.
The Belonging Parent's Journal is designed to be used with both the program videos and the follow-up videos. It includes Scripture references, questions, and room to take notes. It also serves as the journal to be used as a companion guide to the ten-week follow-up series.
The 2-DVD set is designed to be used with the Belonging Parent's Guide. The first DVD includes a welcome video and the six program segments (about 10 minutes each). The second DVD contains the additional videos.
Program Segments
Welcome Video
1. What's in a Name?
2. Real Relationship
3. Liar, Lunatic, or Lord
4. Child of God
5. Real Change
6. Your Family
Additional Videos
The Rite of Baptism
Role of Godparents
Informational Video
Leader's Training
Staff Training
Weight: 1.010 lbs
Identifiers:
016299
811661016299
Set Includes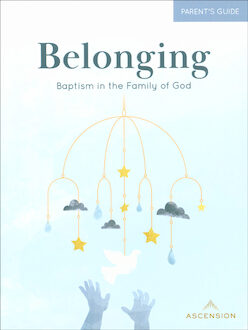 $11.95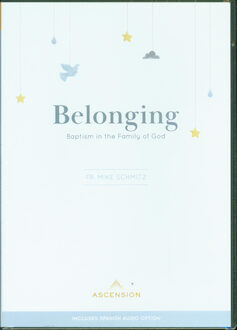 $49.95
$3.95